Goldsource STU-2000 is a 2000 Watt step up/down transformer designed to convert 110 Volts to 220 Volts and vice versa. It's also equipped with a 5 V USB output suitable for powering USB devices. The STU-2000 is available for less than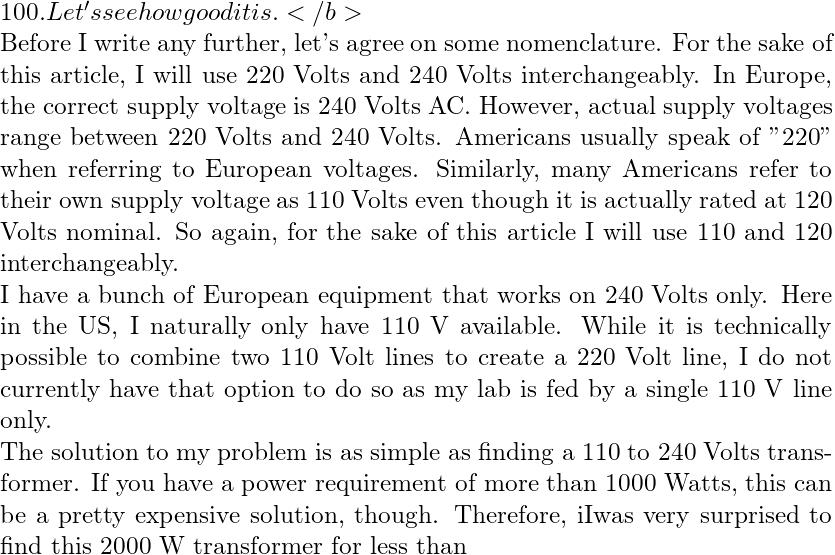 100 [1]. For that price, I decided I'd give it a try.
There's no actual magic inside the box. Inside the case is a standard transformer with a set of different primary taps.
According to the tech specs, this transformer will accept 110, 120, 220, and 240 Volts as input voltage. It supplies 110 Volts and 220 Volts on its output at the same time over two different receptacles.
I did measure 220 Volts output in actual working conditions with 110 Volts input. Accordingly, I could measure 240 Volts out with 120 Volts input while keeping the input selector set to "110 Volts."
The transformer was pretty smelly at first. I assume this was the smell of the fresh paint. After airing it out for a few hours, it stopped smelling funny. The operation noise is barely audible and depends on the actual load.
The overall look of this transformer is pretty solid. The wiring has been done pretty well and the wires seem to have adequate thickness. The device is fused twice. There is a 20 A fuse on the primary side and another resettable 20 A fuse on the secondary side (220 V only). There are 2 spare primary fuses supplied with the transformer.
Just when I was about to close the transformer back up, I noticed a wire that looked a little bit suspicious. Have a look, do you see it?
The transformer works very well for my purpose. I have several SMD soldering tools and other scientific devices powered through this device. Most devices do not mind about the fact that the mains frequency is not being translated. European mains frequency is 50 Hz and in the USA it's 60 Hz. Only devices which derive timing information from the mains frequency, like cheap alarm clocks for instance, will have difficulties dealing with the wrong frequency.
Links and Sources:
[1] Goldsource STU-2000, Amazon: http://www.amazon.com
Please cite this article as:
Westerhold, S. (2013),
"Review: Goldsource 2000 W Step Up & Down Transformer".
Baltic Lab High Frequency Projects Blog. ISSN (Online): 2751-8140., https://baltic-lab.com/2013/01/review-goldsource-2000-w-step-up-down-transformer/, (accessed: October 3, 2023).
Funding:
If you liked this content, please consider contributing. Any help is greatly appreciated.